Primal Quest - Essentials
Weird Stone & Sorcery Adventure Game by Diogo Nogueira
Primal Quest - Essentials is a streamlined set of rules for weird stone & sorcery adventures in a mythical world where humanity survives side by side with dinosaurs, aliens, and creatures more ancient than the world itself.
Written by: Diogo Nogueira
Edited by: Wayne Canepa
Graphic Design by: Guilherme Gontijo
Art by: Felipe Faria
Map By: Fernando Salvaterra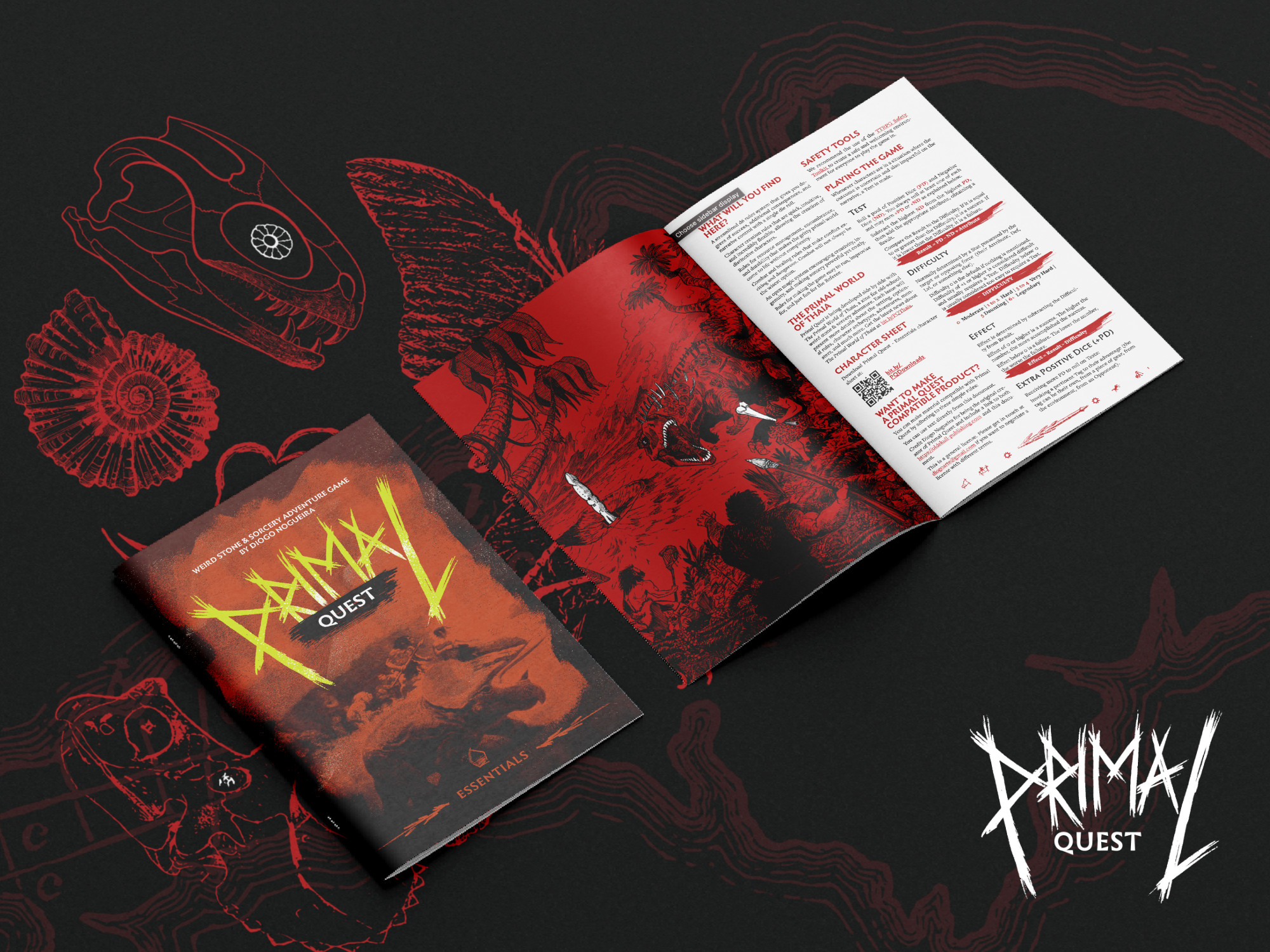 What Will You Find Here?
A streamlined rules system using only d6s that gives you degrees of success, additional consequences, and narrative control with a single dice roll.
Character creation rules that are quick, intuitive, and incredibly flexible, allowing the creation of distinctive characters.
Rules for resource management, encumbrance, and durability that makes the gritty primal world come to life without complexity.
Combat and healing rules that make conflict exciting and dangerous. Combat won't always be the wisest option.
An open magic system encouraging creativity, ingenuity, and making sorcery powerful yet costly.
Rules for making the game easy to run, improvise for, and just fun for the Referee.
A mini-hexcrawl that allow you to play immediately and begin your immersion in The Primal World of Thaia.
GET PRIMAL QUEST IN PRINT!
Primal Quest is now available in print on Exalted Funeral store!
Both the Primal Quest - Essentials and the introductory adventure, The Cave of Our People got printed in full color, in a high quality printer.
Buy Primal Quest - Essentials: https://www.exaltedfuneral.com/products/primal-quest-essentials
Buy Primal Quest - The Cave of Our People: https://www.exaltedfuneral.com/products/the-cave-of-our-people
Buy Primal Quest 3rd Party Publishers releases in Print: https://www.exaltedfuneral.com/search?q=primal+quest
Want to Make a Primal Quest Compatible Product?
You can make material compatible with Primal Quest by adhering to these simple rules:
You can use text directly from the game's SRD document available in the following languages:
Credit Diogo Nogueira for being the original creator of Primal Quest and include a link to both this document and to https://oldskull-publishing.com.
Make use of the Primal Quest - Compatibility License and Logo here.
This is a general license. If you want to negotiate a license with different terms, please get in touch at diogoarte@gmail.com.
Safety Tools
We recommend the use of the TTRPG Safety Toolkit to create a safe and welcoming environment for everyone to play the game in.
Get The Cave of Our People!
The Cave of Our People is an introductory adventure for Primal Quest in which the players will end up making a drawing of the adventure events themselves to mark their #Journey!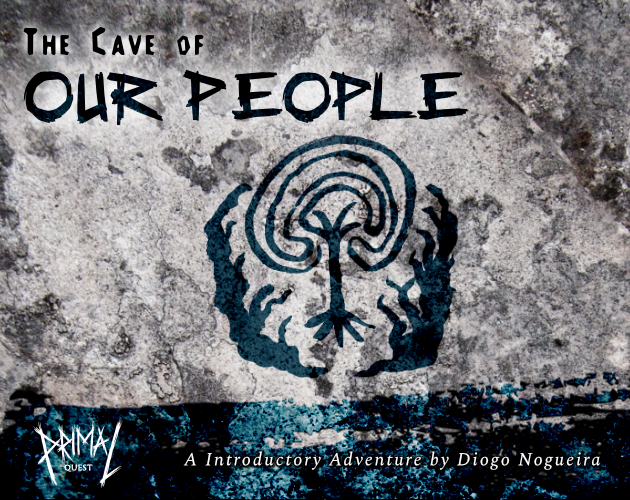 Watch an Actual Play of Primal Quest!
Join the Primal Jam!
I am hosting a Game Jam form May 15th to June 30th every year to encourage people to make games with the Primal Quest system and setting!

Download
Click download now to get access to the following files:
Primal Quest - Essentials_Digital v1.04.pdf
46 MB
Primal Quest - Character Sheet (LicopeoArt) - RED.pdf
1 MB
Primal Quest - Character Sheet (LicopeoArt).pdf
2 MB
Primal Quest - Essentials_Digital v1.04_Optimized.pdf
14 MB